DIANA THOMSON BA FRBS - SCULPTOR

Fellow of the Royal British Society of Sculptors
Renamed January 2018
THE ROYAL SOCIETY OF SCULPTORS
Born:

Manchester, England 4 February 1939 - nee Golding

Married 1963-2007 to:

The late Alex Thomson BSC (1929-2007) Cinematographer

Studied Art at:

Kingston Polytechnic Sculpture Department, Kington-Upon-Thames, Surrey, England from 1976-1979 with Charles Lewis ARCA FRBS

Assessor: Dame Elisabeth Frink CH DBE CBE RA FRBS

Reference Books:

Who's Who in Art
The Dictionary of Artists in Britain since 1945
Dictionary of International Biography
The Cambridge Blue Book 2005/2006 (First Edition)



"SONG OF A MAN WHO HAS COME THROUGH" - FOR ALEX 2007/8
Bronze Plaque 40cms x 69cms
BRONZES IN ENGLAND
HOMAGE TO D.H. LAWRENCE - Portrait Bust
Sited at:

Nottingham Castle Museum and Art Gallery (on the Colonnade with other busts of local

poets including, Byron and Henry Kirke-White).

THE FIRST CINEMATOGRAPHER - William Friese-Greene 1855-1921





Sited at:

The Old House, Shepperton Studios, Shepperton, Middlesex

The Old House, Pinewood Studios, Iver Heath, Buckinghamshire

Panavision U.K. Ltd., Greenford, Middlesex

CINEMATOGRAPHER - ALEX THOMSON BSC 1929-2007 Small bronze portrait bust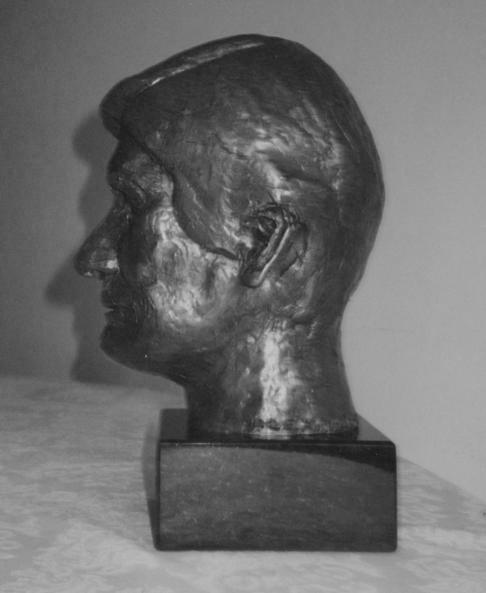 | | |
| --- | --- |
| Sited at: | The British Society of Cinematographers Clubhouse, North Lodge, |
| | Pinewood Film Studios, Iver Heath, Buckinghamshire |

D. H. LAWRENCE - Life size figure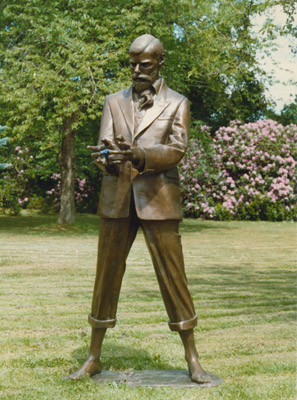 | | |
| --- | --- |
| Sited at: | Campus, Nottingham University, Nottingham |
| Extra photo: | |

THE SWANMASTER - Figure height, seven feet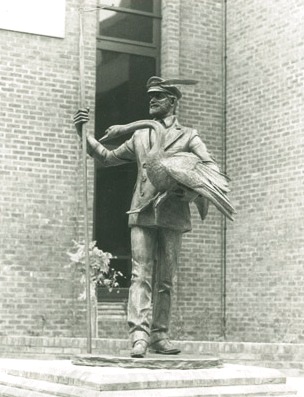 | | |
| --- | --- |
| Sited at: | Memorial Gardens, Thames Street, Staines-upon-Thames, Middlesex |

THE BARGEMASTER - Figure height, seven feet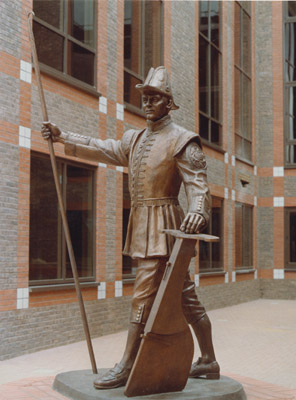 | | |
| --- | --- |
| Sited at: | EMC2 (formerly Data General Tower), Brentford, Middlesex |

THE HURDLER - Life size figure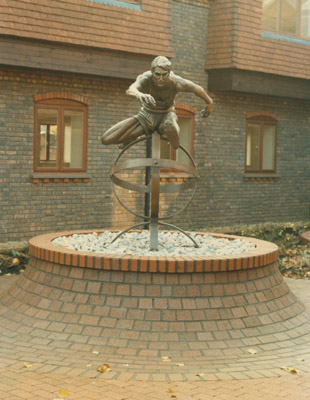 | | |
| --- | --- |
| Sited at: | The Lodge, Harmondsworth, West Drayton, Middlesex |
THE HURDLER NO.2 PLASTER LIFE-SIZE JAN. 2012

FATHER AND CHILD - Life size
| | |
| --- | --- |
| Sited at: | Innovation Court, New Street, Basingstoke |
The plaster of this piece was exhibited in the Royal Academy Summer Exhibition 1982.
BROTHER

THE SWANMASTER - Memorial Gardens, Thames Street, Staines-upon-Thames, Middx.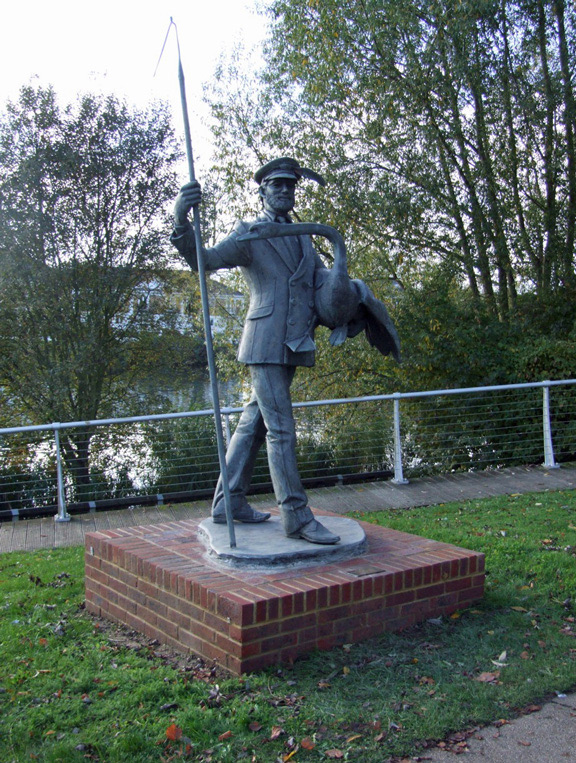 Unveiled by The Mayor of Spelthorne, Cllr. Suzy Webb, on 4th November 2014
BRONZES IN THE U.S.A.
THE FIRST CINEMATOGRAPHER - William Friese-Greene 1855-1921
Sited at:

Panavision, Woodland Hills, Los Angeles, California

Exhibited at:

The Royal Academy

The Royal West of England Academy

New College, Oxford

Simmons Gallery, London

Photographs of other pieces and new coloured work are held at:

The Royal British Society of Sculptors
108 Old Brompton Road
London SW7 3RA

Tel: +44 (0)20 7373 8615
e-mail: info@rbs.org.uk
website: www.rbs.org.uk

These may be seen by appointment.

Links:
Simmons Gallery
Link to Royal British Society of Sculptors (RBS).